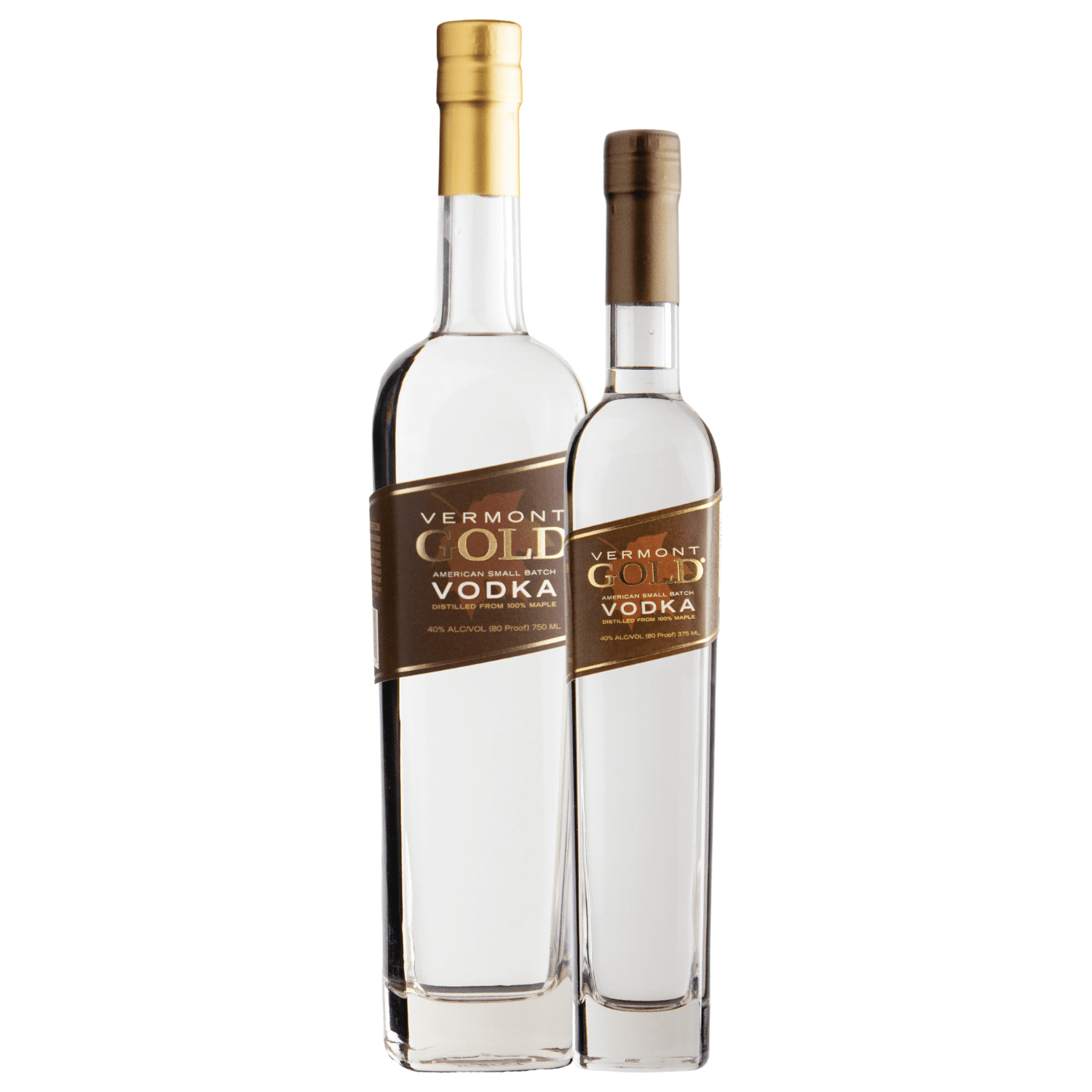 750mL and 375mL
Alc. 40% by Vol. (80 Proof)
100% Forest To Bottle
Award-Winning Small Batch Vodka
Distilled From Only Pure Vermont Maple
Gluten-Free & Grain-Free
Vermont Gold Vodka is the spirit of Vermont in its simplicity of ingredients and its commitment to distinctive craftsmanship. The result? A vodka so clear & smooth, we think it sparkles.
Forest to Bottle
This award-winning small batch vodka is handmade from nature's most eco-friendly ingredient – – – the sap of maple trees. Maple trees need only rain, soil and temperature changes for sap to flow, the tree is tapped and the sap captured. The sap is then concentrated and skillfully fermented to preserve the unique characteristics of its sugars. The maple "mash" is fermented then distilled in our one-of-a-kind glass column still and finally blended with pure Vermont distilled water to produce this exceptionally clean American Vodka.
Vermont Gold® Vodka – The Spirit of Vermont!
Distiller's Note
For love of the land. Our origins began more than 20 years ago. While on a journey abroad, we noticed people who lived in balance with the land, taking and giving and making beautiful things. When we returned to Vermont, we were inspired to celebrate our land too. With an abundance of natural resources, we came up with the idea to distill the alcohol of fermented maple. Over the years our processes have become more sophisticated but we continue to honor the craft and make our vodka by hand. The art of distillation is in the cut between wanted and unwanted compounds. Vermont Gold Vodka, with it's recognizable flavor profile, makes the cuts challenging. But we are proud to have developed methods that bring consistency to our product without compromising quality. Alc. 40% by Vol. (80 Proof)
Tasting Notes
Crystal clear in color and instantly recognizable. Notes of white pepper and toasted wood on the tongue, with aromas of maple sweetness and caramel. Taste is light and teasing, with the richness of lingering butterscotch balanced by the bite of alcohol. A bright, clean, and delicate maple sugar finish. Entirely gluten and grain free- there is no other vodka like it.
Drink Concepts
Neat, Single Cube
Chilled with a twist, Martini (hold the vermouth), Soda or tonic, your favorite vodka cocktai
Awards
Gold Medal San Francisco World Spirit Competition Rolling Stone "Hot Hooch"
2021 Bartender Spirits Awards, Gold; 93 points
2014 International Review of Spirits, Gold; 90 points "exceptional"
Best American Vodka – 2004 Moscow International Spirits
2022 Wine Enthusiast; 92 points