An afternoon pick me up. An after dinner cafe. Make it hot or cold. (Sure, you can use any maple sugar and cold brew coffee, but we're really partial to these ones. 😉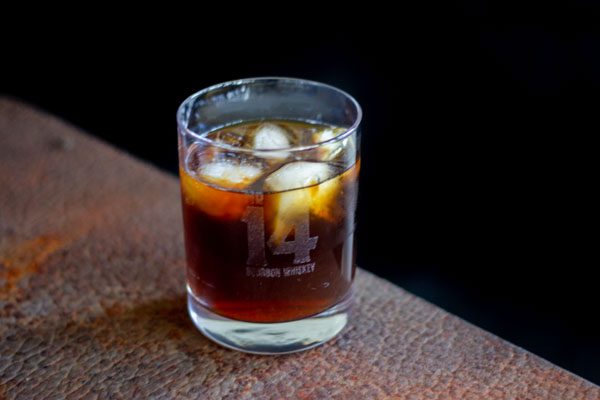 1 part No 14 Bourbon
2 parts Abracadabra Cold Brew Coffee
Jed's Vermont Maple Sugar to taste
Garnish and optional add-ons
creme
cinnamon
whole coffee beans
coffee grinds to dust
How to make it:
Add 2-3 ice cubes in a rocks glass. Add Jed's Vermont Maple Sugar to taste. Gently muddle. Fill a shaker with ice. Add cold brew coffee and No 14 Bourbon to shaker. Shake and strain over ice and sugar in rocks glass.
*Make it a dessert cocktail with a touch of creme and a dash of cinnamon.
Why it works:
Coffee and bourbon naturally compliment each other. The caramel and vanilla notes in a classic bourbon balance with the dark flavors of coffee. Some recipes recommend a teaspoon of maple syrup to add a sweetness to offset the bitterness of the coffee.
No 14 Bourbon naturally enhances this cocktail in a number of ways. It's an incredibly smooth bourbon on its own. Its smooth finish is in large part due to a light touch of pure maple blended before bottling. The cocktail benefits from the maple without any unecessary sweetness. When you add Jed's maple sugar, the ball's entirely in your court. Dial it up or dial it down depending on your preference.
About the cold brew coffee. Cold brew coffee tends to be a little more smooth and a little less bitter. We love Abracadabra (because they're our neighbors and their vibe is seriously wonderful) but also because their stuff is single origin and super high quality. Like, you-can-taste-the-difference high quality.
Jed's maple sugar is the real deal, too. Our own origins are rooted nearby in the Northeast Kingdom (the northern most, eastern most part of Vermont). Jed's family has been in the business for more than 20 years. Check out their website and you'll find a lot of other great products for baking, too.
Buy online and get it delivered