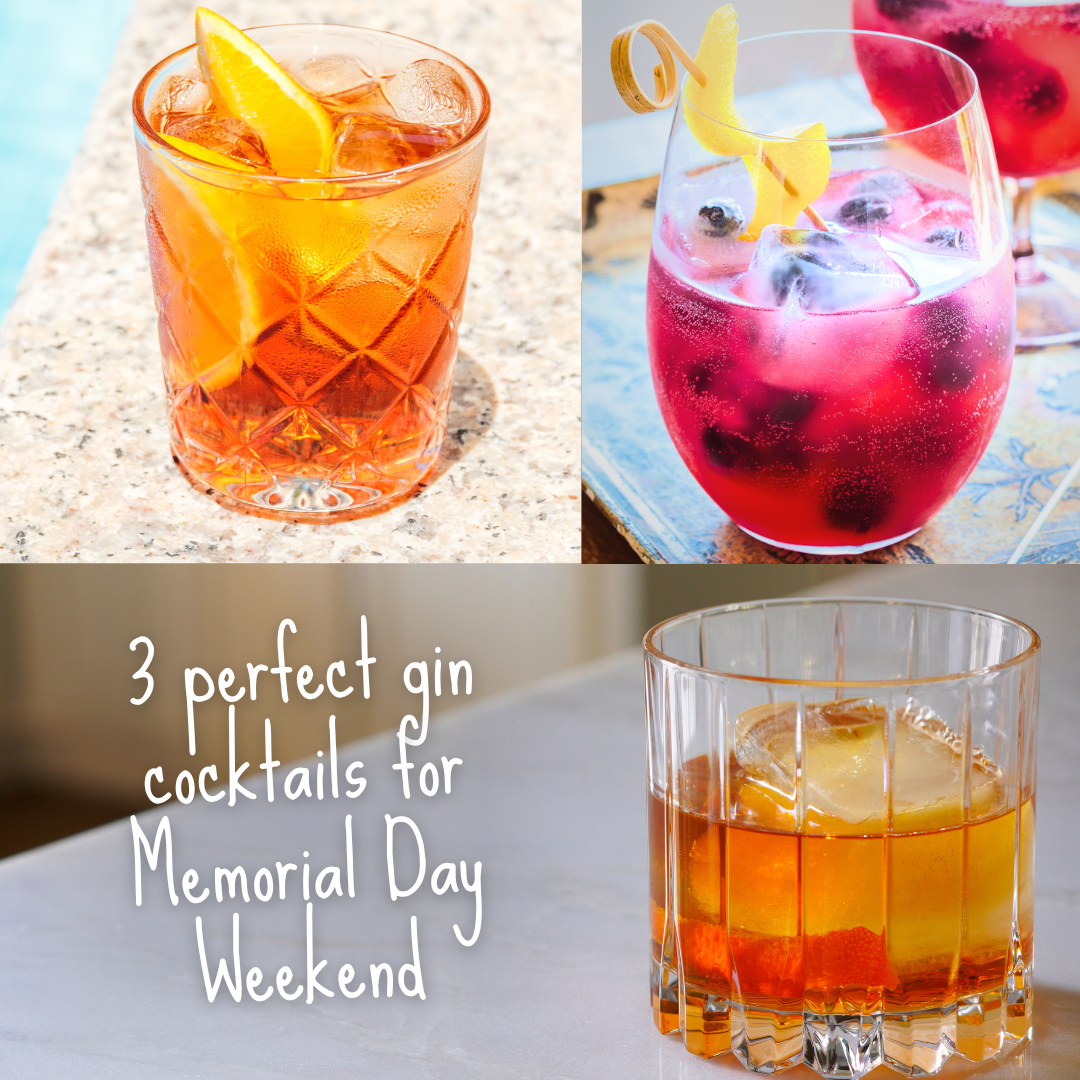 If you want to keep it simple and easygoing this holiday weekend, here are three craft gin cocktails that will give you a bang for your buck. Simple to make. Fantastic flavor profile. Easy-to-pair suggestions. Instantly upgrade your gathering.
[The Apertif]
Coppers Sugarwood Negroni
A great option to enjoy pre-dinner. Coppers Sugarwood Gin makes this negroni slightly sweeter, which dampens the bitterness of the Campari just slightly enough to bring out the citrus and green tea botanicals in the gin.
Enjoy over ice. Try with a splash of champagne or prosecco. Serve with berries, citrus fruits and sugar cookies, yumm.
[The Anytime]
Blueberry Basil American Gin Spritzer
We seriously can't get enough of this spritzer! Don created this recipe during a fun collaboration with Blake Hill. (The collab worked so well, we're practically besties now.)
From California to Boston, B-B American Gin Spritzer has become a cult fave. Check out the recipe for why it works. And stock up so you can make it allll summer long.
Serve it with ice in a classic tumbler or flute. Experiment with other types of summer berries. Pair with BBQ favorites, light pastas and salads. Great with simple cheese board, charcuterie or crudite.
[The Digestif]
Coppers Barrel Old Fashioned
Invite your guests to a digestif moment. A digestif is typically more rich, with deeper flavors than an apertif. It's intended for relaxation after a meal. We love the Coppers Barrel Old Fashioned because it sets the perfect scene for post-dinner conversation and banter.
The old fashioned was born of simplicity and an eagerness to return to cocktails that appreciate the flavor profile of a high quality spirit, rather than drowning it out with extra sugars.
Our pairing suggestion is: Chocolate. Coppers Barrel Gin is aged in used bourbon barrels and naturally picks up echoes of the char and amber from this process. Try serving up a tray of chocolates, arranged from sweet to bitter, milk chocolate to dark chocolate. Experiment with interesting chocolates that incorporate currants or bits of coffee bean. Your guests will love it!
Tell us how you made your craft cocktail!